In the world of auto repair, precision and thoroughness are paramount. It's a detailed account, capturing the essence of what needs attention – parts, labor, and time estimates. One key aspect that anchors this process is the creation of a precise Repair Order (RO). As a seasoned workshop owner, I've come to understand the pivotal role this document plays in ensuring a successful repair experience for both the customer and us as Repair Service Providers.

Opening the Job Card (JC):
The journey begins with opening a Job Card (JC), which serves as the nucleus of the repair process. This card captures crucial details that lay the groundwork for the entire service journey.
Customer Information: Name, Mobile, Email, Alternative Contact, Full Address, Driver Details – every piece of information matters.

Vehicle Details: Make, Model, Variant, Year, Registration Number, Color, Odometer reading, VIN or Chassis No. – these particulars provide the necessary context.

Additional Information: Insurance Company, Insurance Expiry date, etc., help in aligning services with existing agreements.
Documenting Customer Concerns:
It's imperative to document customer concerns verbatim. Whether it's a "tak, tak noise from the engine area" or a nuanced description, each detail holds 
significance. Furthermore, repeat repairs require special attention to ensure a long-lasting solution.
Vehicle Condition and Inventory:
To address customer dissatisfaction and uphold trust, a comprehensive inventory of the vehicle is conducted in their presence. This not only prevents loss of items but also uncovers potential issues that may otherwise go unnoticed or not reported by the customer.
Scratches, Dents, and Prior Damage:

Every imperfection is meticulously marked to avoid disputes later on.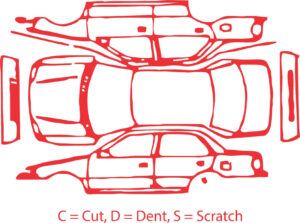 Position-wise Vehicle Inspection: A step-by-step inspection ensures no detail is overlooked, from exterior damages to interior conditions.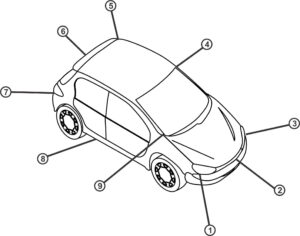 Functional Systems Check: Any non-functioning or malfunctioning systems are documented for attention.
Empowering the Customer:
A crucial step is informing the customer to remove personal belongings, money, and valuables from the vehicle. This ensures their peace of mind and avoids any potential misunderstandings.
Categorizing Services:
Services are categorized into Urgent, Concern, and Okay based on customer concerns and the vehicle's condition. This allows for clear communication and efficient decision-making.
Estimation and Authorization:
Once the customer confirms the estimation, all services are documented along with cost and time commitments. The customer's authorization is obtained, solidifying the Repair Order.
Advancing the Process:
For repairs exceeding a certain amount, a 50% advance is collected from the customer. This secures the commitment and ensures a smooth workflow.
The Birth of a Repair Order (RO):
With the customer's confirmation, the Job Card transforms into a full-fledged Repair Order (RO). This document encapsulates the entire repair journey and acts as a guiding beacon for the technicians.
Accurate preparation of the JC and subsequent transformation into an RO sets the foundation for a "fix-it-right the first time" approach. It ensures a streamlined, efficient, and ultimately satisfying repair experience for both the customer and the repair shop.
Incorporating a robust Shop Management System like Autorox further amplifies these benefits, making the entire process seamless and efficient.
Streamlining Job Card Creation with Autorox:
In automotive repair, efficiency and accuracy go hand in hand. Autorox, the cutting-edge Shop Management System, revolutionizes the creation of Job Cards (JC). Here's how it transforms the process:
Effortless Data Capture: Autorox simplifies the initial steps by swiftly capturing critical customer and vehicle information. This ensures that no vital detail is overlooked, setting the stage for a seamless repair journey.

Access to Comprehensive Service History: With Autorox, the service advisor gains access to a treasure trove of information. This includes previous service records, pending dues, feedback from prior visits, and even membership details in loyalty programs. This wealth of data empowers the service advisor to offer tailored recommendations.

Efficient Repeat Job Creation: Leveraging the power of Autorox, opening a repeat job based on the vehicle's service history is a breeze. This feature not only saves time but also ensures that no aspect of the vehicle's needs is left unattended.

Standardized Reporting with Pick Lists: Autorox provides standardized pick lists for vehicle specifications and common customer complaints. This not only streamlines the reporting process but also lays the groundwork for future analysis and insights.

Seamless Handling of Enterprise and Insurance Jobs: Autorox excels in handling diverse job types. Whether it's an enterprise customer or an insurance-related job, the system adapts effortlessly, ensuring a consistent and efficient approach.

Visual Documentation through Mobile App: One of the standout features of Autorox is its mobile app capability. Service advisors can digitally document the vehicle's condition with ease, ensuring clarity and transparency throughout the process.

Ready-to-Use Print Formats: Autorox offers ready-to-use print formats for both Job Cards and Repair Orders. This enables swift communication with technicians, providing them with clear directives.

Real-time Service Status Updates: Through Autorox, customers enjoy real-time visibility into the progress of their vehicle's repair. This transparency builds trust and enhances the overall customer experience.

Effortless Estimation with Promotional Offers: Autorox simplifies the estimation process by allowing service advisors to easily select promotional offers or service packages. This expedites the process while ensuring customers benefit from any ongoing promotions.
By integrating Autorox into the Job Card creation process, repair shops not only elevate their operational efficiency but also deliver an unparalleled experience to their customers.
Stay tuned for more insights in our series on crafting exceptional automotive experiences – next Step 4: on spares procurement and efficient execution in auto repair. 🛠️🚗